Tender apples baked with sugar, cinnamon and nutmeg on top of a flaky crust and covered with a sweet crumb topping.
French apple (sometimes called a Dutch apple) pie is probably my favorite pie. I also love strawberry-rhubarb, pumpkin and peach pie. A peach pie made with really good peaches is exquisite but an exceptionally good peach isn't easy to come by in Minnesota. What we do have are lots of excellent baking apples.
While I have made more French apple pies that I can count I have never made the more traditional two crust apple pie. No reason really; the two crust is a delicious pie. But I started with crumb topped and never went back. We absolutely love it.
Pie crust:
The whole thing starts with your favorite pastry crust; homemade or store bought, settled into the bottom of a pie pan. My pie crust is very basic; shortening, flour, a bit of salt and sugar then enough cold water to bring together. It has always been my go-to for all my pies, quiches, pot pies and anything else that requires a pastry crust.
Apples:
Next we need some good baking apples. Haralson are far and away my favorite choice for any baked apple dessert. Haralson apples are crisp, tart and bake up tender yet they hold their shape and don't get mushy.
Honeycrisp, Gala and Braeburn are all good choices for baking apples. I have also used a combination of apples in a pie and that works as well.
The apples are peeled and sliced thin then tossed with sugar, cinnamon, nutmeg, cloves, a bit of salt and also a little flour to thicken the delicious sweet juice of the apples. From here you try not to sneak too many of the yummy cinnamon-sugar apples slices! But a taste test is good. 😉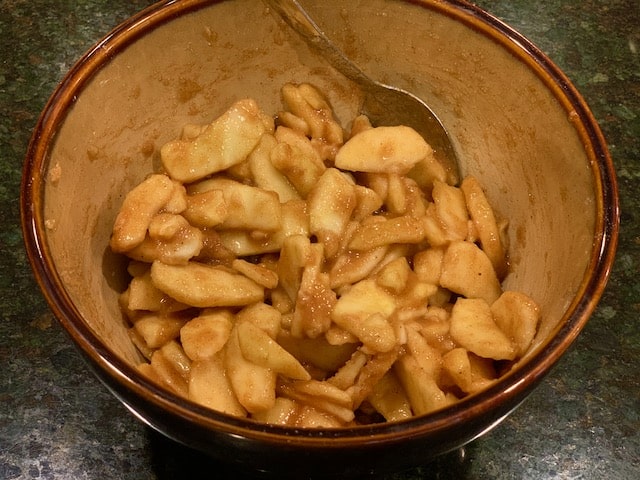 The apple mixture is then spooned into the prepared crust and spread evenly.
Take care to build up the crust on the edges of the pie pan to prepare for the crumb filling and help prevent overflow of juice from the pie.
Crumb Topping:
Finally on to the crumb topping. Flour, brown sugar and butter are combined using a pastry blender or your fingers. Personally I alway end up using my fingers; I just feel it's easier. You will want to combine until the mixture is a fine crumb texture with only very small pieces of butter remaining. This takes a little time but just be patient.
Onto a sheet pan which makes it easier to pull in and out of the oven and also to catch any overflow. Not fun to scrub burnt apple pie juice from the bottom of the oven. I have experience. 😉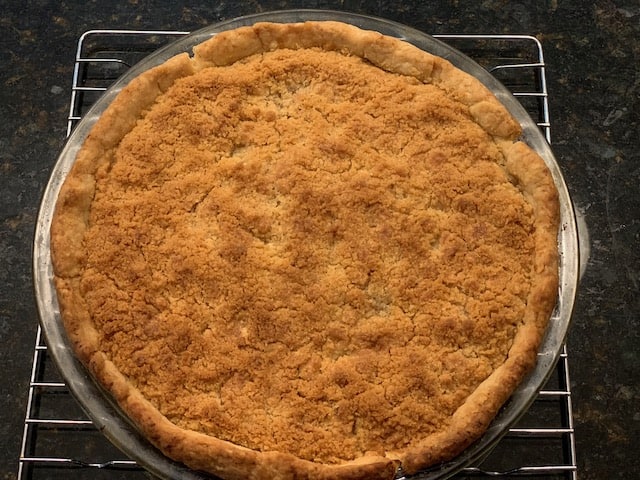 Bake for 45 minutes; the crumb topping should be golden and you should see a bit of bubbling juice coming through in a few spots. I like to cover with foil for the last 15 minutes so the pie doesn't get too dark.
Allow to cool for at least an hour. It's hard, I know! The struggle is real around here. Cooling allows the pie to set. After an hour it will still be warm and absolute perfection.
Enjoy warm with some good vanilla ice cream. Or cold with no ice cream. Or cut a teeny tiny slice and eat with your hands as you walk by because it is just too damn good to leave alone!
This pie is really a treat. Enjoy!
French apple pie
Ingredients
1

unbaked pie crust, in a pie plate
Pie Filling
¼

cup

all purpose flour

¾

cup

granulated sugar

¾

tsp

cinnamon

¼

tsp

nutmeg

dash of salt

5-6

(depending upon size) apples peeled and thinly sliced

Haralson apples if at all possible, otherwise Gala or Braeburn
Crumb Topping
1

cup

all purpose flour

½

cup

packed brown sugar

½

cup

firm butter
Instructions
Heat oven to 425 degrees. Stir together dry ingredients until mixed. Toss in peeled apple slices. Pour into pie crust.

Combine ingredients of crumb topping using a pastry blender or your fingers until mixture is crumbly and uniform sized.

Place pie on large sheet pan.

Bake for 45 minutes. Crumb topping should be golden brown. If topping is browning too quickly, cover with foil. I usually cover with foil for the last 15 minutes of baking.

Serve warm with vanilla ice cream.