A pumpkin pie martini is half cocktail, half dessert, and completely scrumptious!
This is truly boozy pumpkin pie in a glass.
Hubby and I have fond memories of ordering martinis at Blackwater lounge in Duluth, Minnesota. Blackwater is a beautiful establishment with live music and an extensive drink menu featuring unique, and delicious martinis. We loved ordering cocktails along with some food to share. Thankfully they are open after being closed due to road construction, COVID, etc. I can't wait to go back next time we take a trip to Duluth.
Ingredients
White Sugar & Cinnamon: Combine to create the cinnamon sugar on the rim of your martini glass.
Brown Sugar: Adds sweetness and warmth.
Pumpkin Pie Spice: Typically contains a mixture of cinnamon, nutmeg, cloves, and ginger, all of which go perfectly with pumpkin.
Vodka: I used a neutral, unflavored vodka for these martinis. I'm sure a vanilla-flavored vodka would be delicious!
Half & Half: Adds richness.
Milk: Added to slightly thin the mixture to keep it drinkable.
Pure Pumpkin Puree: Use canned pure pumpkin puree or puree from a roasted sugar pumpkin.
Pure Maple Syrup: Maple and pumpkin are incredible together. I love pure maple syrup with my pumpkin pancakes.
Vanilla Extract: More great flavor.
Instruction
Start by prepping your glasses. Combine the white sugar and cinnamon in a thin layer on a small plate. Moisten the rim of two martini glasses and dip in cinnamon sugar to coat the rim. Set the glasses aside.
Next, we need to blend the martini ingredients. Because these martinis contain pure pumpkin puree, blending is needed to assure the drinks are as smooth as possible.
A cocktail shaker is ideal for the next step, as you can easily shake and strain the martini. We found this one on Amazon. Fill the cocktail shaker with ice and pour in the pumpkin mixture. Shake vigorously. Strain into two glasses.
Enjoy your pumpkin pie martini with someone special. I made them a couple of times as a pre-dinner cocktail, and they would be a sweet ending for a special dinner for two. It would make a fabulous drink for Halloween, and Thanksgiving is right around the corner. Enjoy!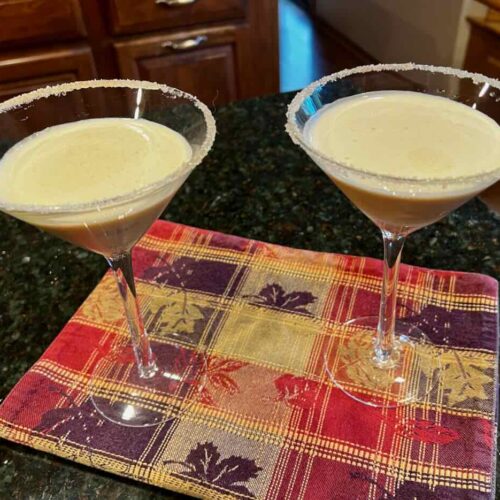 Pumpkin Pie Martini
Ingredients
1

Tbsp

white sugar

¼

tsp

cinnamon

1

Tbsp

brown sugar

½

tsp

pumpkin pie spice

3

ounces

vodka

¼

cup

half & half

2

Tbsp

milk

3

Tbsp

pure pumpkin puree

3

Tbsp

pure maple syrup

½

tsp

vanilla extract
Instructions
Combine the white sugar and cinnamon on a small plate. Dip the rim of 2 martini glasses in water, then dip in the sugar to coat.

Combine the brown sugar, pumpkin pie spice, vodka, half and half, milk, pumpkin puree, maple syrup, and vanilla extract. Add to a blender or use an immersion blender to thoroughly combine the ingredients.

Add the mixture to a martini shaker filled with ice. Shake vigorously, then strain into the prepared martini glasses.