Parmesan herb shrimp and gnocchi skillet is the perfect quick and easy dinner. Quick-cooking shrimp and packaged potato gnocchi combined with herbs and parmesan create an impressive meal that is ready in a flash.
Shrimp literally cooks in minutes. You can use them to have meals like fajitas and stir-fries ready very quickly. Packaged gnocchi is another great ingredient to keep on hand. These lovely little pillows of potato goodness are great shortcuts for quick, easy, and scrumptious dinners.
Ingredients
Olive Oil: Used to sauté the veggies.
Mushrooms, Onions, and Red Bell Pepper: These vegetables add color, texture, and flavor to the dish.
Sun-Dried Tomatoes: Sun-dried tomatoes are available jarred in oil or dry packaged. They add intense tomato flavor to the dish.
Garlic: Adds a nice bite of flavor.
Butter: Adds richness to the dish.
Flour: Combines with the flour to thicken the liquids and create a creamy sauce.
Half & Half and Milk: Provides the creamy base for the sauce.
Chicken Stock: Adds savory flavor to the sauce.
Potato Gnocchi: I usually find potato gnocchi near the dried pasta in the grocery store. I have bought various brands, both refrigerated and shelf-stable. They are seriously good.
Shrimp: I always have a bag of uncooked shrimp in the freezer. Typically, I buy the varieties that are peeled and deveined.
Fresh Herbs: I use my favorites and what I typically have available. My deck is currently overflowing with rosemary, thyme, and basil. I love the freshness and color a few fresh herbs add to any dish.
Salt & Pepper: Boosts the flavor.
Red Pepper Flakes: Adds a bit of heat. I like a generous sprinkle.
Freshly Grated Parmesan Cheese: Salty, cheesy flavor that makes any recipe better.
Instructions
First, you will sauté the veggies. Select a large, deep skillet and add the olive oil. While the veggies sauté, collect and prep the other ingredients. I like to take this time to measure my liquids and chop the herbs and garlic. You could also grate the parmesan cheese.
Once the veggies are ready, melt the butter and stir in the flour. Stir until the flour is incorporated into the butter. Add the liquids and stir. The sauce will thicken as you stir thanks to the butter and flour mixture.
Add the shrimp and gnocchi. Cook until the shrimp is cooked through. Stir in salt, pepper, red pepper flakes, and a good sprinkle of fresh herbs. Grate in the fresh parmesan and serve it up.
I like to serve parmesan herb shrimp and gnocchi skillet with a simple side of green veggies, such as roasted broccoli.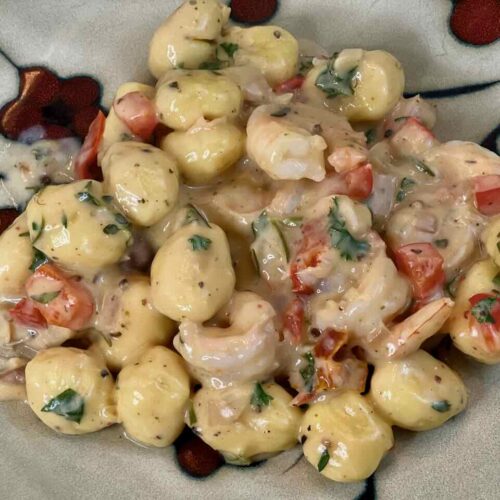 Parmesan Herb Shrimp and Gnocchi Skillet
Ingredients
1

Tbsp

olive oil

½

cup

mushrooms

sliced

½

cup

onion

chopped

½

cup

red bell pepper

chopped

2

Tbsp

sun-dried tomatoes

chopped

2

cloves

garlic

minced

2

Tbsp

butter

2

Tbsp

flour

½

cup

half and half

¼

cup

milk

½

cup

chicken stock

12

oz

packaged potato gnocchi

½

pound

of large shrimp

peeled and deveined

¼

cup

chopped fresh herbs

parsley, basil, thyme, rosemary

salt & freshly ground black pepper to taste

red pepper flakes

to taste

2

Tbsp

freshly grated Parmesan cheese
Instructions
Heat olive oil in a large skillet over medium heat. Add mushrooms, onion, and red pepper and sauté for about 5 minutes until veggies begin to soften. Add garlic and sauté for another minute.

Add butter to the skillet and stir as the butter melts. Add flour to the skillet and stir to mix the flour into the butter.

Reduce the heat to medium/low and pour the half & half and milk into the skillet while constantly stirring so that no lumps form. Continue to cook while stirring until sauce starts to thicken, about 2-3 minutes. Add chicken broth while stirring constantly to combine all ingredients.

Add gnocchi and shrimp and stir to combine. Continue to cook until the shrimp are pink and opaque, about 3-5 minutes. Add fresh herbs, salt, pepper, and red pepper flakes. Stir in the parmesan cheese.