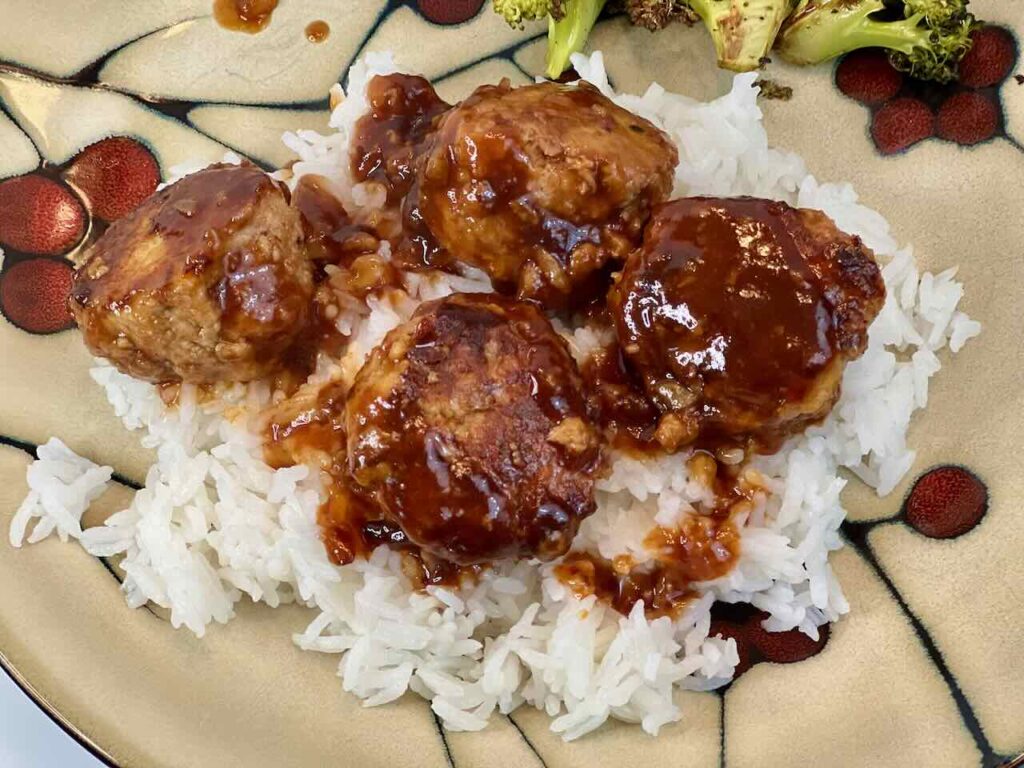 Tender turkey meatballs become every more scrumptious, coated with a tangy sweet & sour sauce. Just a few simple ingredients create an easy, wonderful sauce. Enjoy them on their own, or make them a meal with rice and a simple vegetable.
I have been making this recipe for years. Over time, I have changed it up, cutting down the amount of sugar and adding vinegar and hoisin sauce. This has resulted in a more complex flavor, yet the sauce is absolutely still indulgent and delicious.
Ingredients
Ground Turkey: I usually use 90% lean ground turkey.
Egg: Binds the meatballs together and gives them a rich flavor.
Onion: Red, yellow, or white onions are all fine. A bit of diced onion adds a nice pop of flavor to the meatballs.
Panko Bread Crumbs: Panko is my go-to for bread crumbs. Lighter and crispier than traditional bread crumbs, they keep the meatballs light and tender.
Salt & Pepper: Add to taste to enhance the flavors.
Olive Oil: Used to sauté the meatballs.
White Vinegar, Balsamic Vinegar & Apple Cider Vinegar: Vinegar adds acidity, flavor, and depth to savory recipes.
Ketchup: Adds flavor, tang, and sweetness to the sauce. It also adds a pleasing red color.
Hoisin Sauce: Hoisin sauce is the essential ingredient in many Asain-inspired recipes.
Low Sodium Soy Sauce: Adds unmistakable flavor.
Brown Sugar: Makes the sauce sweet.
Water: Thins the sauce to allow the ingredients to combine before cooking down until it is rich and delicious.
Instructions
Start by making the meatballs. Add the ground turkey, onion, panko, salt, and pepper to a bowl and mix until combined. Avoid over mixing to help the meatballs stay tender. Using a spoon or a cookie scoop, form the meatballs. Try to keep them to a fairly uniform size, so they cook at the same rate.
Heat up the olive oil in a large skillet. When the oil is hot, add the meatballs, leaving room between them to allow you to flip them over. Let them sauté a good five minutes before attempting to turn. If you turn too quickly, the meatballs will fall apart. I speak from experience. 😉
While the meatballs get crisp and brown, combine the sauce ingredients. When the meatballs are cooked through, pour the sauce into the skillet. Bring the sauce to a simmer and stir the sauce gently with the meatballs. The sauce will thicken as it simmers.
We typically enjoy sweet & sour turkey meatballs with rice and a side of broccoli. Try sweet chili or honey chipotle for more meatballs with an Asian-inspired flare.