Turkey bolognese is comfort food at its very best. An ultra-flavorful thick, rich, tomato sauce over pasta with a sprinkle of cheese. What could be better?
Bolognese is a meat-based tomato sauce in Italian cuisine. Traditionally, the sauce contains beef and/or pork and a mixture of vegetables. My version contains ground turkey and, of course, lots of vegetables.
If you google bolognese sauce you can find hundreds of different recipes. Adding pasta water to loosen the sauce is common. We are fans of thick, rich, luxurious sauce. The last thing I would want to do is thin it. But this is a purely personal preference.
Ingredients
Olive Oil & Butter: The combination of olive oil and butter is used to sauté the veggies and give them flavor.
Onions, Carrots, Celery, & Red Bell Pepper: Finely minced veggies add flavor and depth to the sauce.
Ground Turkey: I use lean ground turkey.
Garlic: No pasta sauce is complete without garlic.
Tomato Paste: The use of tomato paste makes the sauce thick and rich. It also helps give the bolognese a vibrant red color.
Fresh Tomato: Adding fresh tomato gives the sauce a bright, fresh flavor.
Chicken Stock: Chicken stock and the juice from the fresh tomatoes create a wonderful sauce for the base of the bolognese. Wine is another option for part of the liquid, but I don't typically have a partial bottle available.
Salt & Black Pepper: Brings out the flavors.
Italian Seasonings: Basil, parsley, and oregano are the classic Italian spices. Fresh is always preferred, but dried spices release wonderful flavor when simmered in tomato sauce.
Half & Half: Adds a bit of richness to the sauce.
Pasta: Use your favorite. I really like how penne pasta holds up to the thick sauce. Spaghetti noodles would also be a great, traditional choice.
Parmesan Cheese: Freshly grated parmesan cheese adds a great finishing touch.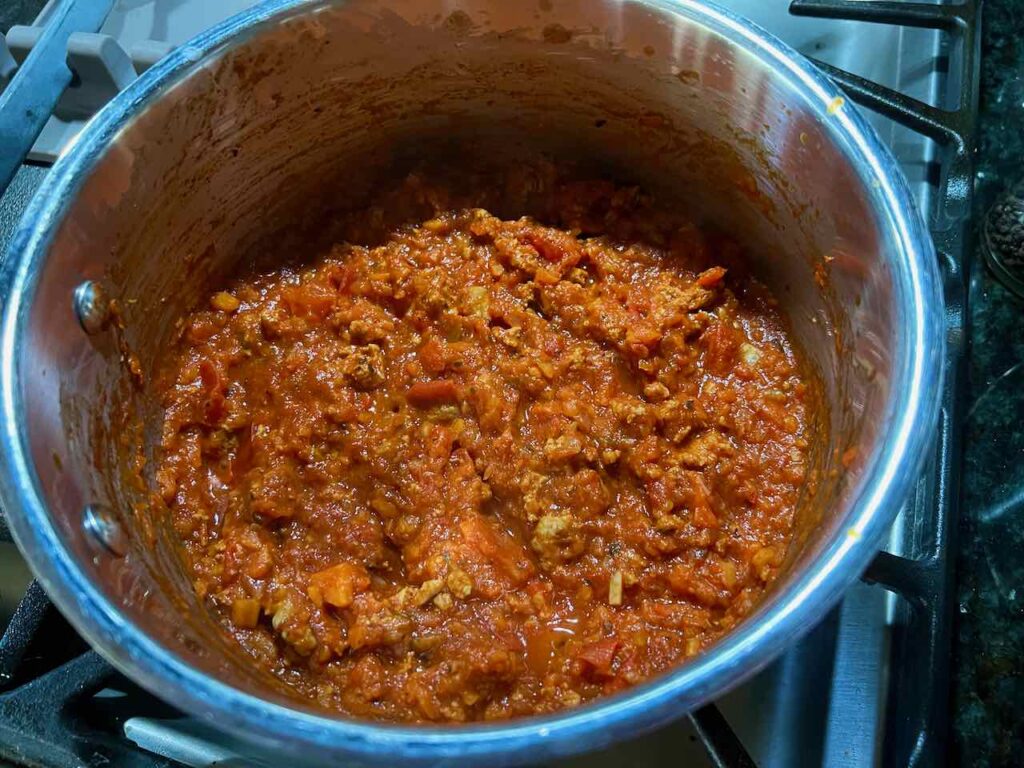 Instructions
You will start with the veggies. The onions, carrots, celery, and bell pepper are finely minced. Typically I prefer to hand chop veggies, but if you have a food processor/chopper this is a perfect time to use it. Really, the tinier the better for the veggies.
The vegetables are sauteed along with the ground turkey. Break up the turkey as it is cooking into small pieces. Add the garlic and stir for a minute.
Once the turkey is cooked, you will add the tomato paste, fresh tomato, chicken stock, and spices. Allow the sauce to simmer gently for one hour. This is where the magic happens, the flavors melt while sauce becomes thick and glorious.
Don't forget to start the pasta while the sauce is cooking.
After one hour, add the half & and half and stir. Serve over pasta with a generous shred of parmesan cheese.
Turkey bolognese is a delicious treat! Enjoy with someone special.
For other tomato-based pasta dishes, try Caprese salad or this pasta bake!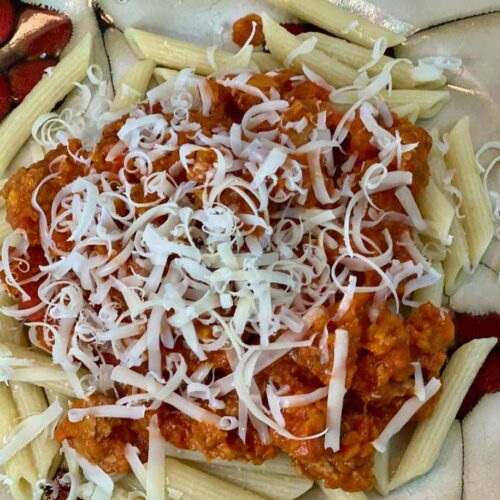 Turkey Bolognese
Ingredients
1

Tbsp

olive oil

2

Tbsp

butter

½

cup

onion

finely chopped

1

large

carrot

finely chopped

1

stalk

celery

finely chopped

½

cup

red bell pepper

finely chopped

½

pound

ground turkey

2

cloves

garlic

finely chopped or grated

4

oz

tomato paste

1

large

fresh tomato

chopped

½

cup

chicken stock

½

tsp

salt

freshly ground black pepper

to taste

Fresh or dried Italian seasoning

parsley, basil, and oregano

¼

cup

half & half

1¼

cups

dry penne pasta

or pasta of your choice

fresh parmesan cheese

for serving
Instructions
Start by prepping the vegetables by very finely chopping the onion, carrot, celery, and red bell pepper. Alternatively, you could use a food processor. Heat a large saucepan or large, deep skillet and add olive oil and butter. Add the veggies and ground turkey and sauté until the turkey is cooked through. Break the ground turkey into small pieces with a spoon while it cooks. Add the garlic and stir for one minute.

Next, add the tomato paste and stir into the turkey and vegetable mixture. Stir in chopped fresh tomato, chicken stock, salt, pepper and Italian seasonings. Simmer for 1 hour, stirring occasionally.

Finish by pouring in the half and half and stirring to combine. Serve over pasta and top with freshly grated parmesan cheese.