Welcome to Sunday.
Halfway through May, how is that possible?
Employee Appreciation Week at the clinic. Part of the week includes opportunities to dress outside our standard scrubs or dress clothes. Thursday was Sports Day, for which we were allowed to dress honoring our favorite sports teams. I wore a solid purple jacket and pants along with a Minnesota Vikings t-shirt, complete with a purple Apple Watch band and Vikings earrings. We were also treated to lunch on Friday.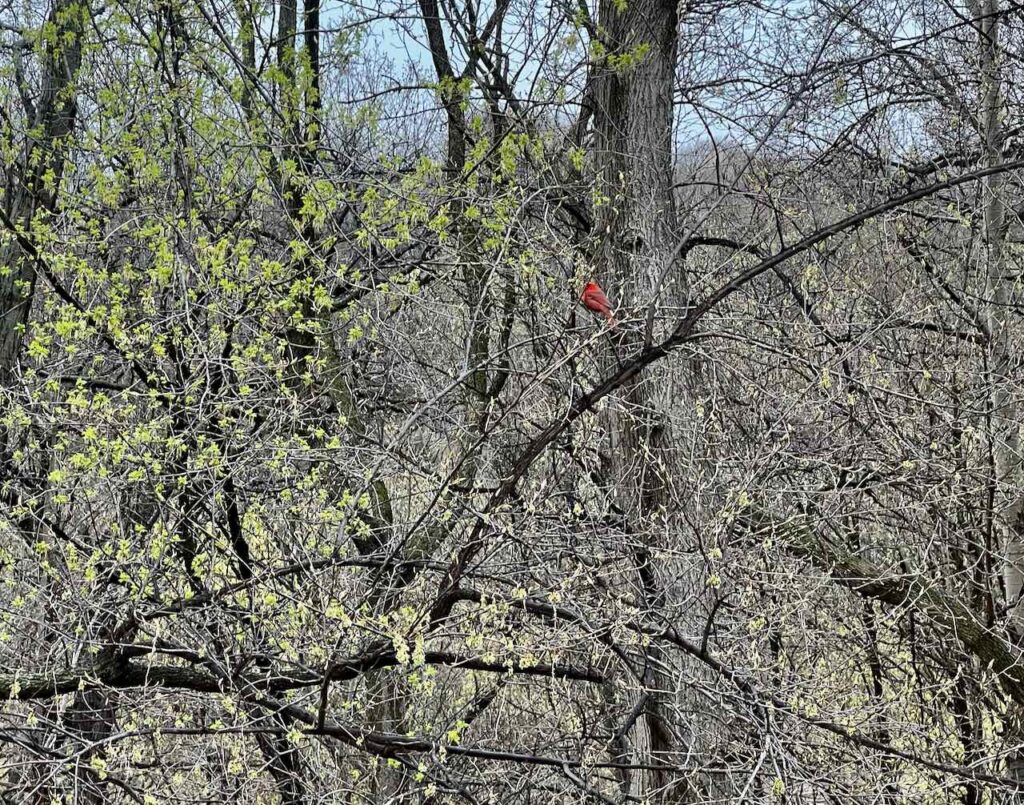 We see lots of cardinals thanks to the evergreen trees on the side of the property. I was admiring this handsome guy out the back window one morning. I love the flash of red when the trees are still bare of leaves. Since this photo, the trees have really filled out with leaves. It is finally starting to look like May around here.
What caught my eye this week
The end of an era this week with the iPod Touch being discontinued. Would iPhones even exist without the invention of the iPod? Hubby bought a 3rd generation iPod years ago that started us down the Apple path.
I hope to get a start on the garden this week, with flowers, veggies, and fresh herbs. I keep feeling like I am late to the game, but there is minimal reason to start until the weather warms up.
The most scenic drive in every state. I haven't been up the entire north shore in Minnesota, but what I have seen north of Duluth is stunning. I agree with the author that Colorado is full of scenic drives. We were there nine years ago at this time. As well as being incredibly beautiful, we enjoyed some of the best food of our lives.
A passenger takes control of a plane when the pilot becomes incapacitated. I am impressed by someone staying calm in that situation!
Stop taking yourself so seriously. I am often trying to lighten up.
Father of the Bride remake coming to HBO Max. I love the 90s version and this looks fun too!
Bella and Bailey are respecting each other's personal space. 🙂
Have a lovely weekend!