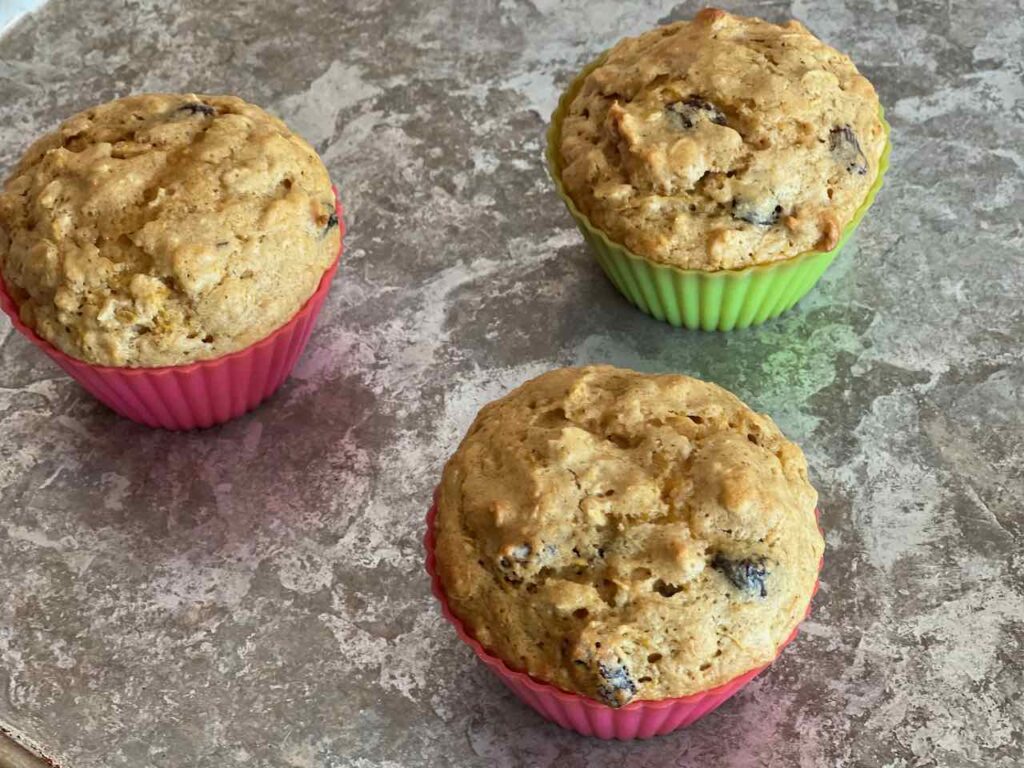 A sweet treat that is hardy and wholesome enough for breakfast, pumpkin oat muffins are perfect any time of day.
These muffins turn out soft, sweet, and smell wonderful thanks to lovely spices like cinnamon and ginger. These little guys also have rolled oats and raisins to make the muffins filling, a little bit healthy, and very delicious.
Ingredients
Flour, Baking Powder & Baking Soda: The structure and leavening agents of the muffins.
Salt: Brings out the flavors.
Cinnamon, Ginger, Nutmeg & Ground Cloves: The classic spice blend for all things pumpkin.
Cardamom: I have been reading and hearing the praises for a while, but only recently brought a container of cardamom powder. It is closely related to ginger and turmeric and goes nicely with pumpkin. I love the aroma and flavor it adds.
Eggs: Provides the structure of the muffin and makes them moist.
Brown Sugar: Gives the muffins warmth and sweetness.
Pumpkin Purée: Pumpkin purée is one of my favorite ingredients in anything. Pies, bars, pancakes, and, of course, muffins. You can use purée from the roasted sugar pumpkin or canned pumpkin purée.
Milk: Adds moisture.
Canola Oil: Makes the muffins moist.
Vanilla Extract: Makes baked goods taste even better.
Rolled Oats: Oats give structure and hardiness to the muffin.
Raisins: Raisins are a great addition to muffins. They add a nice hint of sweetness and texture.
Instructions
Start by preheating the oven and prepping your muffin pan and cups. I use silicone cups and set them on a sheet pan.
Silicone muffin cups work great. These multi-color cups are reusable, sustainable, and cute! I make muffins once a week, and I have found they hold up very well to repeated use. I put them in the dishwasher on the top rack, which makes cleanup easy.
Next, thoroughly combine all the dry ingredients.
Combine the wet ingredients, starting with eggs. Beat the eggs well before adding the rest of your wet ingredients. Then stir in the rolled oats and raisins.
Divide the batter into your muffin cups. A cookie scoop works well. The cups will be nearly full for a nice, round muffin top.
Once done, allow to cool for a few minutes before enjoying these pumpkin oat muffins. Enjoy!
If you are in the mood for an indulgent, dessert-type muffin, be sure to try this pumpkin coffee cake version!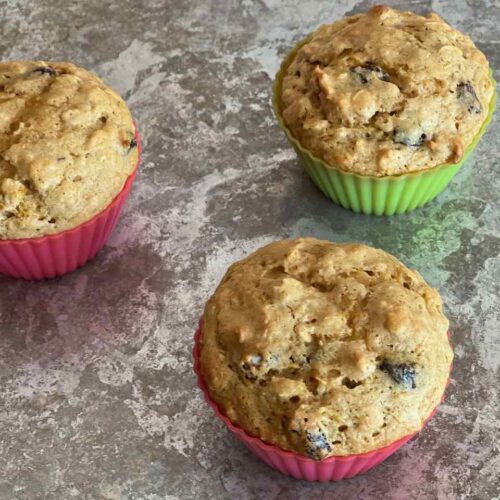 Pumpkin Oat Muffins
Ingredients
Dry Ingredients
1

cup

flour

2

tsp

baking powder

¼

tsp

baking soda

½

tsp

salt

½

tsp

cinnamon

¼

tsp

ground ginger

¼

tsp

nutmeg

¼

tsp

ground cloves

¼

tsp

cardamom

optional
Wet Ingredients
2

large

eggs

room temperature

½

cup

brown sugar

½

cup

pumpkin puree

¼

cup

almond milk or skim milk

¼

cup

canola oil

½

tsp

vanilla extract

1

cup

rolled oats

½

cup

raisins
Instructions
Preheat oven to 375℉. Prep 10 muffin cups

In a medium bowl, combine the flour, baking powder, baking soda, salt, and all the spices. Stir until well combined.

In a large bowl, beat the eggs. Stir in brown sugar, pumpkin puree, milk, canola oil, and vanilla extract. Stir until well combined.

Combine the dry ingredients with the wet ingredients and stir until just combined.

Stir in oats and raisins. Divide batter into the muffin cups. Cups will be nearly full of batter.

Bake until muffins are puffed up and a toothpick comes out clean, 15-20 minutes. Cool for 5 minutes before removing from pan to a wire rack. Serve warm.