Cheesy ravioli pasta and zesty pesto are perfect together in this quick, easy, and scrumptious dish.
Fancy enough for a special dinner and an excellent choice for date night. By using packaged ravioli, you can have a luscious pasta dish ready in no time. I am all for homemade, but quality store-bought ingredients can really speed up the process, so dinner can be done in a flash.
Jarred pesto is the other star of this wonderful pasta. Basil, tomatoes, and pasta, does it get any better than that? My summer basil typically isn't prolific enough to make a decent amount of homemade pesto. But luckily, jarred store-bought pesto is freaking delicious.
Ingredients
Fresh Ravioli: Fresh packaged ravioli is readily available in the refrigerated section of the grocery store. You can also find shelf-stable versions, but I tend to prefer refrigerated pasta. There are several brands. These spinach and mozzarella ravioli were wonderful! You could also use tortellini pasta if you prefer.
Olive Oil: The oil of choice for all things Italian. Goes so well with pasta and tomatoes.
Red Pepper & Onion: Adds a bit of color and texture to the dish. I can't help myself, I always add veggies! Can be omitted if desired.
Red Pepper Flakes: Just a hint of spice. We like a heavy sprinkle.
Grape or Cherry Tomatoes: If I make this dish in the summer, I try to always use cherry tomatoes. Grape tomatoes are available year-round and are a decent substitute.
Basil Pesto: Jarred or homemade, basil pesto adds some much incredible flavor. Makes the dish rich and tangy.
Parmesan Cheese: The perfect finishing touch for pasta.
Instructions
Start by getting your water boiling to cook the ravioli.
Dice your peppers and onions before adding them to a shallow skillet heated with olive oil. Saute until the veggies are somewhat tender.
Chop the tomatoes into halves or quarters, depending upon their size. You want small, bite-sized pieces of tomato. Once the veggies have started to soften, add the tomatoes and the red pepper flakes. The tomatoes will soften, release their juices, and form a sauce.
As the tomatoes are cooking, add the packaged ravioli to the now boiling water. Fresh, packaged ravioli cooks quickly.
Once the ravioli is cooked, toss it with tomato mixture. Stir in the pesto and parmesan cheese. Cook another minute or two until everything is hot and heated through.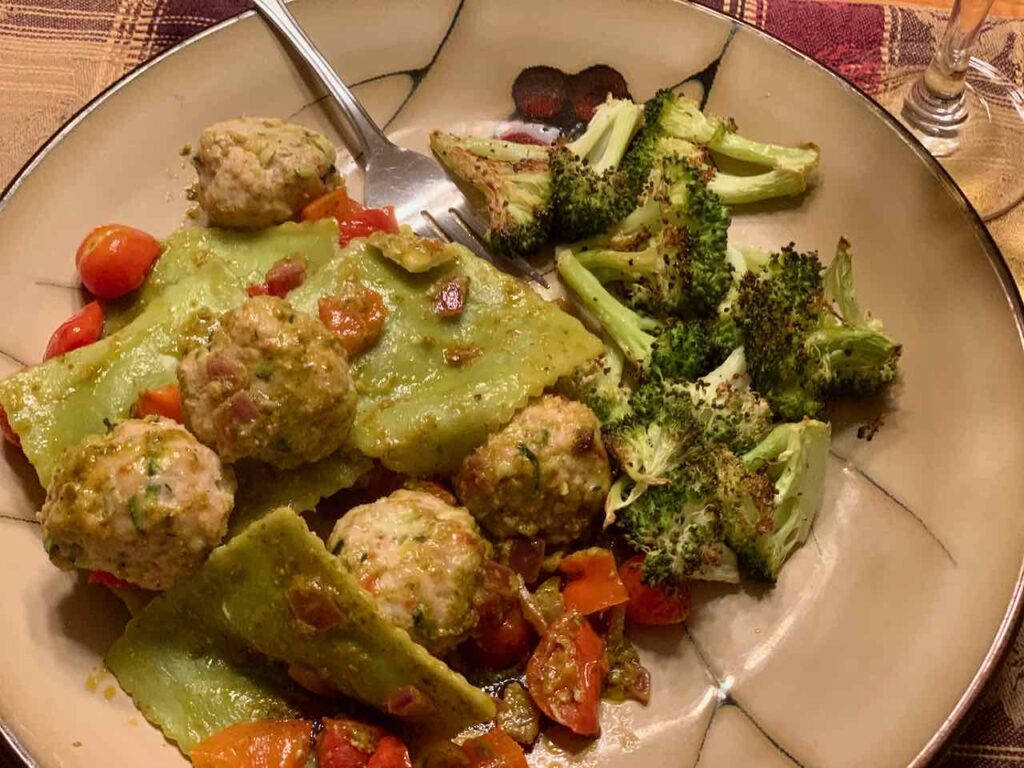 Serve immediately with additional parmesan cheese, if desired. Could be served as a meatless main dish or as an accompaniment. My zucchini parmesan chicken meatballs were extra delicious when gently tossed into the pesto sauce.
Date night! Pesto ravioli pasta is such a warm, cozy, inviting meal.
Enjoy this easy, delicious pasta!
Pesto Ravioli Pasta
Ingredients
1

8-10 oz package

fresh ravioli or tortellini

1

Tbsp

olive oil

½

cup

red pepper

diced

¼

cup

onion

diced

pinch of red pepper flakes

1

cup

grape or cherry tomatoes

halved or quartered

¼

cup

prepared basil pesto

2

Tbsp

grated Parmesan cheese
Instructions
Bring a large pot of salted water to a boil. Add the tortellini and cook according to the package directions. Typically fresh ravioli will cook in 3-5 minutes.

Meanwhile, heat the olive oil in a large skillet. Add the red pepper and onion and sauté until somewhat soft. Add the red pepper flakes and tomatoes. Cook until the tomatoes start to wilt and release their juices.

Drain the pasta and add it to the pan with the vegetables, and toss to coat.

Stir in the pesto and Parmesan cheese. Cook until heated through, 1-2 minutes.

Serve with extra Parmesan cheese, if desired.