Italian-style chicken orzo with fresh tomatoes and herbs is the perfect summer pasta.
My garden tomatoes are coming fast and furious these days. We have two bowls of ripe, beautiful tomatoes on the counter right now. I am loving them chopped in my salads and sliced as part of sandwiches. This is the glorious time of year that I can't keep up with my tomatoes by eating them fresh.
Fresh herbs on the deck are a delightful part of summer for me. The fresh basil in particular adds so much flavor to recipes.
Ingredients
Olive Oil: The quintessential Italian cooking oil.
Onion: Red, yellow, or white onions are all perfectly fine. I love the flavor onion add to tomato pasta recipes.
Chicken breast: One small boneless skinless chicken breast is a nice amount for this small recipe. You could also use one to two chicken thighs.
Garlic: Essential for Italian pasta.
Chicken Stock: The orzo cooks in chicken stock and absorbs the flavors. I like low sodium chicken stock.
Orzo: This tiny, little pasta is perfect for a quick, one-pan meal.
Fresh tomatoes: For me, fresh tomatoes make this dish. Vine-ripened garden tomatoes add flavor and color. The tomatoes cook down and provide some liquid for the orzo.
Basil & Oregano: Use fresh basil if at all possible; as it adds flavor and aroma that doesn't come through with the dried version. I have and use fresh oregano, but dried is fine.
Salt & Pepper: To taste.
Red Pepper Flakes: Adds just a hint of heat.
Spinach: This nutritious green wilts down quickly and adds great color and flavor.
Parmesan Cheese: Adds richness and a hint of cheesy flavor. Use freshly grated if at all possible.
Instructions
Start by sautéing the chicken and onion. The chicken does not need to be cooked through at this point, as it will have time while the pasta cooks.
Add the stock, orzo, tomatoes, herbs, and spices. Stir.
The pan will be very liquid-y at this point. Stir occasionally as the orzo absorbs and chicken stock and tomato juice.
While the pasta cooks, chop up your spinach and grate the fresh Parmesan.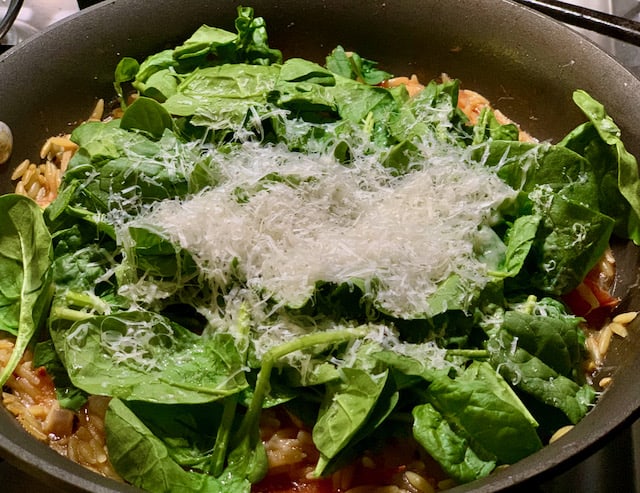 The spinach will quickly wilt, and the Parmesan cheese will melt. Stir until all ingredients are well combined.
Bright, colorful, and full of the flavors of the season. Make the most of those garden tomatoes and vibrant fresh herbs with this Italian-style chicken orzo!
Italian-Style Chicken Orzo
Ingredients
1

Tbsp

olive oil

¼

onion

diced

1

small

boneless skinless chicken breast

chopped into bite-sized pieces

2

cloves

garlic

minced

½

cup

chicken stock

½

cup

uncooked orzo pasta

3

medium-sized

fresh tomatoes

diced

1

Tbsp

fresh basil

chopped

1

tsp

fresh oregano

chopped

¼

tsp

kosher salt

¼

tsp

fresh ground black pepper

½

tsp

crushed red pepper flakes

1½

cups

baby spinach

roughly chopped

¼

cup

grated Parmesan cheese
Instructions
In a large skillet over medium heat, add the olive oil. Add the onion and chicken breast. Sauté the chicken and onion until the chicken is starting to brown and the onion is getting soft. Add the garlic for the last minute of cooking.

Add the chicken stock, orzo, diced tomatoes, basil, oregano, salt, black pepper, and red pepper flakes.

Bring to a boil, reduce to a simmer and cover. Cook for 12-15 minutes or until liquid is absorbed. Check the pasta and add a bit more chicken stock if the orzo isn't cooked to your liking.

Add baby spinach and Parmesan cheese when the mixture is nearly done and stir. Cook for a 1-2 minutes until the spinach has wilted.

Serve immediately.