Happy Sunday!
Those delicate, little, rose-like double impatiens. They are such a lovely addition to my shade pot. I love summer flowers.
Just grateful for central air conditioning here in hot, dry Minnesota. As I write this, the area is officially in a heat advisory. Every summer we go through a dry spell, but I sure don't ever remember a drought like this. I was happy to wake up to a gentle rain Saturday morning.
We were happy to get some vacation plans in place for August. Driving, not flying, we hope to fly again next year. On that topic, I needed to renew my driver's license this past week and opted for Enhanced ID to be compliant with the new regulations to be able to board an airplane.
Early this week, we got to enjoy some happy hour special in town. We love our happy hours, whether at home, on vacation, or local. Before we headed home, we stopped for a selfie with my favorite sculpture in the area, Godzilla!
Despite the heat, we decided to check out some local outdoor live music on Saturday. What is it about live music? Heck, as long as the music isn't country, I love listening to pretty much any live performance.
What caught my eye this week
Feel-good TV shows like Ted Lasso. I can personally vouch for several of these.
On the subject of Ted Lasso, that shortbread. Funny fact, that shortbread on the set tasted terrible!
This hysterical take on The Titanic. Beware if you are sensitive about language or your love of the movie!
I panic when I realize it's been a day and I have forgotten to respond to a text, but we really shouldn't need to apologize.
For anyone other than me who may need this. An easy way to cut a mango. I absolutely love mangos, but trying to peel and cut them is a pain. This looks very easy!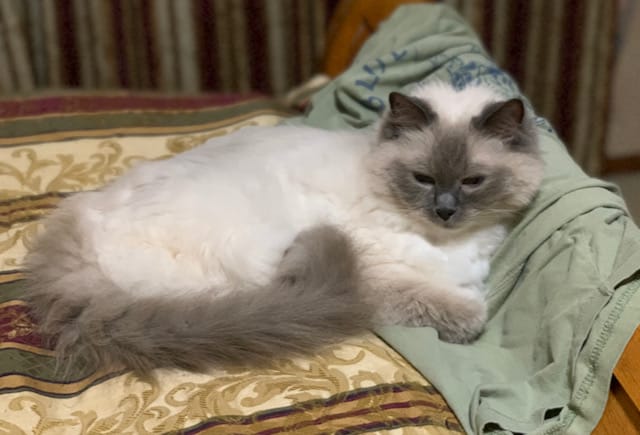 Bella doing cat things, which including lying on random objects. Here she is sharing her love, and fur, with Husband's shirt. 😉
Have a great weekend!