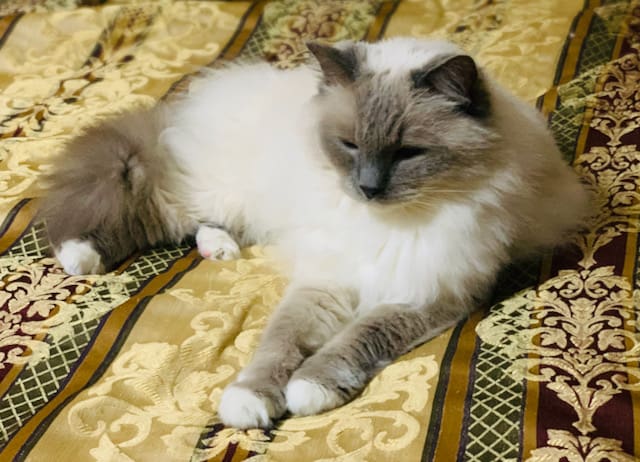 Happy Sunday!
The cats always look relaxed and ready for weekend mode. This picture was taken during one of the breaks in the heat. During the 90 degree days, Bailey and Bella can both be found upstairs on the floor as flat as pancakes. Actually, they most closely resemble two soft, fluffy rugs. Bella is on her side and Bailey, pictured above, loves to lie on her back.
I continue to try to get outside to run a few times a week depending upon my schedule and the weather. Warm weather running is quite different than going out in the spring or the fall. I am sure winter running is a whole different ball game too, but I can't go there. I am in awe when I see runners out in temperatures well below freezing.
My newest running shows, a pair of Nike Air Zoom Pegasus, are quickly becoming my favorite.
We thoroughly enjoyed Sunday brunch last weekend. I had a build-your-own omelet with asparagus, wild mushrooms, and goat cheese. The dish came with potato fritters and toast. It was absolutely delicious.
We ordered a mimosa flight, which this restaurant cleverly creates and names with a theme in mind. Last weekend, the drinks had names inspired by Elton John. So fun!
What caught my eye this week
Body parts that are forgotten when applying sunscreen. I would add the tops of my feet! I am really trying to avoid sandal strap lines this year. 🙂
The sweet art of fostering. I love following Beth Stern on Instagram with her steady stream of foster cats and kittens.
As if Simone Biles wasn't impressive enough in real-time. Wait until you see her incredible routine in slow motion.
Juneteenth and Minnesota.
Finally, joyful reunions after far too long apart. I was so grateful to reunite in person with my dearest friend this past week. She and I are both quite sure it had been nearly two years since we enjoyed each other's company. We went down to a local park with our lunch and checked out the animals. The goats were my favorite.
We talked for hours, and it wasn't long enough. Texts and phone calls are great, but nothing beats sitting across from another human being and really catching up.
Have a great weekend!