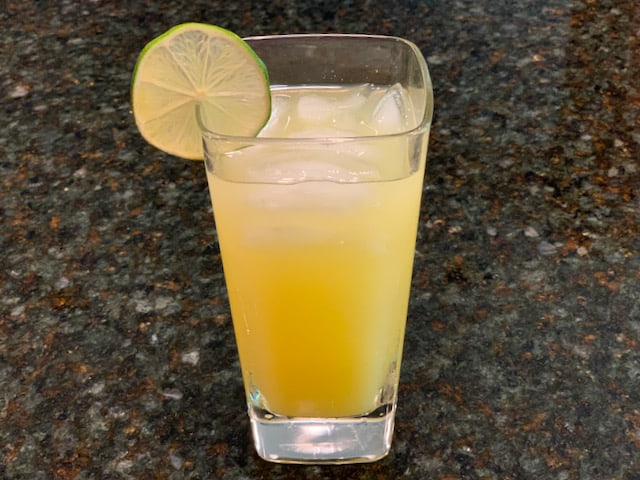 Tequila lime sunrise is a perfect drink for summer. This is the time of year for light and refreshing cocktails. The orange juice adds a nice sweetness and the lime adds tangy zip. I can best describe the drink as a combination of a margarita and a tequila sunrise and, I think, the best of both classic cocktails.
Today happens to be our wedding anniversary! We will definitely be celebrating tonight, and this cocktail is more than worthy.
Tequila is really having a moment. Recently I read this article in our local newspaper. Years ago, tequila was all about enduring a straight shot or the booze in a margarita, but it is so much more. I always have it on hand at home for a variety of refreshing drinks.
This drink is quick and easy and requires no special tools. If you happen to have a cocktail shaker, by all means use it! But otherwise, simply pour the ingredients over ice, stir and enjoy!
Ingredients
Silver Tequila: I have been enjoying this 1800 silver tequila from our local Sam's Club. I find it very smooth, and it is very reasonably priced. Use your favorite tequila.
Lime Juice: The juice of one fresh lime provides the tang that goes so well with tequila. There is a reason sucking on a lime after a shot of tequila became a thing. 😉
Orange Juice: Adds color and sweetness to the cocktail.
Sweetener of your choice: I like a packet of Stevia for a bit of added sweetness to the drink. You could also use sugar or powdered sugar. Powdered sugar is often found in margaritas.
Water or Club Soda: Added at the end to fill your glass. If you use a short glass, you may not need any additional liquid. Alternatively, you could use more orange juice.
Instructions
Fill a tall or short glass with ice.
Next, cut your lime. I like a thin wedge of lime to garnish the drink and make it look festive. 🙂 Simply cut the lime in half and reserve a thin slice from one of the halves. Using a juicer or your hands to squeeze the lime juice into the glass with the tequila.
Add your orange juice to the glass. You could definitely add more orange juice to make the drink more sweet than tangy. You could also add extra tequila; because why not?
Add sweetener of your choice. If you add extra orange juice, you may not need additional sweetener.
If you are using a tall glass, you will want to add club soda or plain water to fill the glass. But if you want more orange juice or more tequila, go for it!
Stir thoroughly. Garnish with lime.
Enjoy this tequila lime sunrise as a before or after-dinner drink. You could also enjoy alongside these easy shrimp fajitas for a tasty, festive, date night!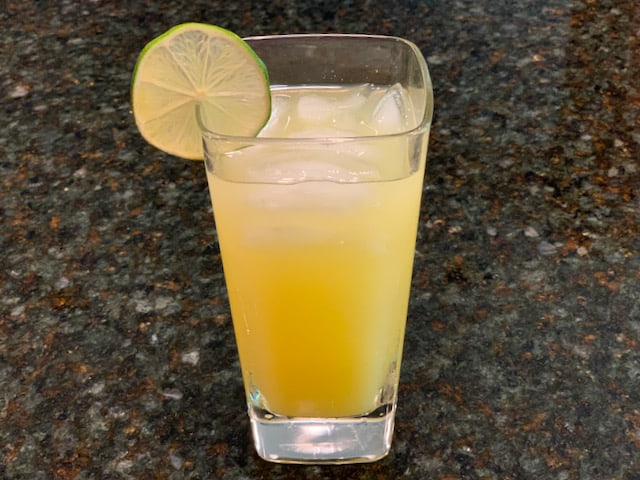 Tequila Lime Sunrise
Ingredients
1

ounce

silver tequila or tequila of your choice

1

lime

freshly squeezed – reserve round for garnish

2

ounce2

fresh orange juice

1

packet

Stevia or sweetener of your choice

club soda or water

1

lime wedge or round

for garnish
Instructions
Fill a glass with ice. Add tequila. Cut fresh lime in half, reserving a narrow round in the center for garnish. Squeeze lime juice into the glass with the tequila. Add orange juice and sweetner to the glass. Add club soda or water to fill the glass if needed.

Stir ingredients thoroughly. Serve with lime wedge or round.