Turkey meatloaf is warm, comforting, and delicious. A lighter option than a traditional ground beef meatloaf but still tender and flavorful.
The weather is starting to get warm, but still cool in the evening in Minnesota. Meatloaf is a great choice for a chilly night. It is also so easy. Mix it up, place in a loaf pan, and one hour later you have dinner. We usually have meatloaf with sides like a baked potato for an easy, filling dinner.
Ingredients:
Onions & Garlic: Minced onions and garlic are sautéed in olive oil before being added to the turkey for maximum flavor. I typically use red onions; white or yellow are also fine.
Rosemary & Thyme: My favorite spices with poultry, they add lovely flavor to the meatloaf. Use fresh if available.
Worcestershire sauce: A tangy and salty sauce adds great flavor to the meatloaf.
Ground Turkey: I use 90% lean ground turkey.
Bread crumbs: Gives the meatloaf structure and texture. I like Panko bread crumbs.
Egg: Adds flavor and helps the meatloaf hold its structure.
Ketchup: I love ketchup with meatloaf! I mix it right in with the rest of the ingredients. Adding more for serving is also absolutely essential in my opinion!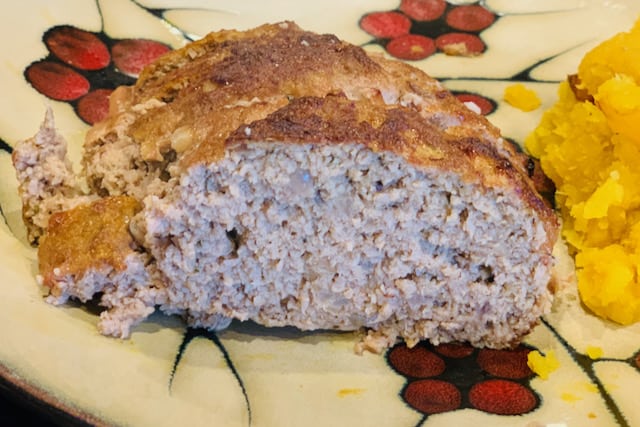 Instructions:
After preheating the oven lay a slice of bread in the bottom of your loaf pan. This is a good use for old bread as it is discarded after baking. The bread is there to soak up the grease and liquids that collect at the bottom of the pan.
You will start with the onion and garlic. Sauté with olive oil until softened and fragrant. Add the herbs and spices and stir. If using dried herbs this method perks them up a bit and makes them more flavorful.
In a medium-sized bowl combine the ground turkey, bread crumbs, egg, and ketchup. Mix well then add the onion mixture. Combine thoroughly until all ingredients are well blended. I usually just use my hands, but you could stir and combine using a spoon.
Bake for one hour. Allow the meatloaf to rest for 10 minutes before slicing. If desired, drizzle with a little (or a lot!) of extra ketchup.
I like serving turkey meatloaf with a baked potato or roasted acorn squash since both options take an hour in the oven. We also had roasted asparagus for a nice green veggie.
Enjoy this comforting, delicious dinner!
Turkey Meatloaf
Ingredients
½

cup

onion

finely chopped

1

clove

of garlic

minced

1

tsp

olive oil

½

tsp

kosher salt

¼

tsp

pepper

½

tsp

fresh thyme leaves

½

tsp

rosemary

1

Tbsp

Worcestershire sauce

1

pound

lean ground turkey

¼

cups

bread crumbs

I use Panko

1

egg

beaten

¼

cup

ketchup

plus extra for topping if desired
Instructions
Preheat oven to 400℉. Line the bottom of a loaf pan with a slice of bread to soak up the grease during cooking.

In a small skillet heat the olive and sauté onions over low-medium heat for 5 minutes. Add garlic, thyme, rosemary, salt and pepper. Add the Worcestershire sauce. Mix well.

Combine the ground turkey, bread crumbs, egg, ketchup and onion mixture in a large bowl. Mix well. Form into a loaf and place in the loaf pan.

Bake for 1 hour until meatloaf is cooked through.

Let stand 10 minutes before slicing. Serve with extra ketchup if desired.