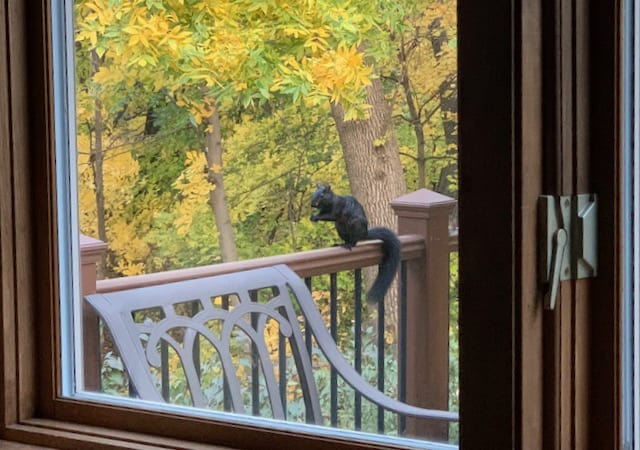 Happy Sunday! I love all the squirrel activity this time of year. So busy scurrying around, burying nuts and getting ready for winter. But they still have time to chase each other up and down the trees. So cute! 🙂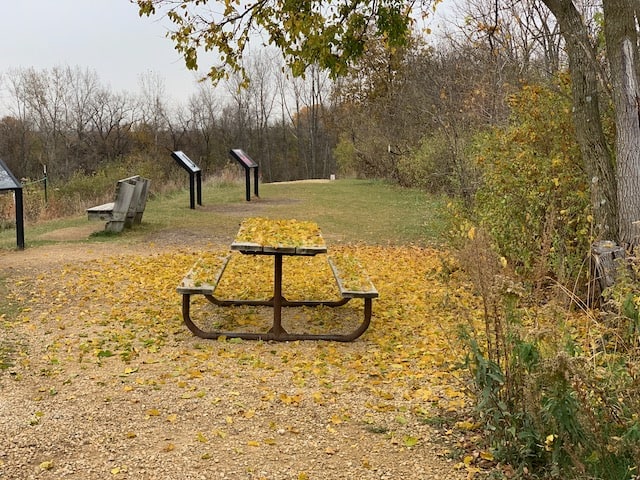 Have I mentioned how Minnesota weather can change quickly? The photos above and below were very literally taken 24 hours apart. Now the temperature was in the 30s both days. I was wearing a hat and winter coat when I captured the loveliness of the falling leaves. But less than a day later we had six inches of snow covering our pretty leaves.
The snow is not pretty. Mid October snow is very much not pretty. In a couple months when it is officially winter than maybe a soft snowfall coating the trees might have a certain charm. But snow before December and after February/March is most certainly not pretty.
Cold, snowy days are a good excuse to turn on the oven. I roasted my sugar pumpkin and a butternut squash.
The pumpkin puree was scraped out, mashed and is now in the freezer ready to be made into any number of yummy recipes.
The butternut squash was combined with some onions, celery, a little broth and a splash of half & half for soup. I love a cup of soup with my salad for work lunches when the weather gets cold.
Don't throw away the seeds! When the pumpkin and squash came out I put seeds from both onto the same sheet pan with a little pepper, Chipotle seasoning and olive oil. Back in the oven for 15 minutes for a great, chewy snack.
Black cats and pumpkins:
My favorite Halloween kitty of all time; our sweet Velvet. She crossed the bridge 11 years and we still miss her. She was our talkative and spunky girl with a mind of her own. We loved her so much.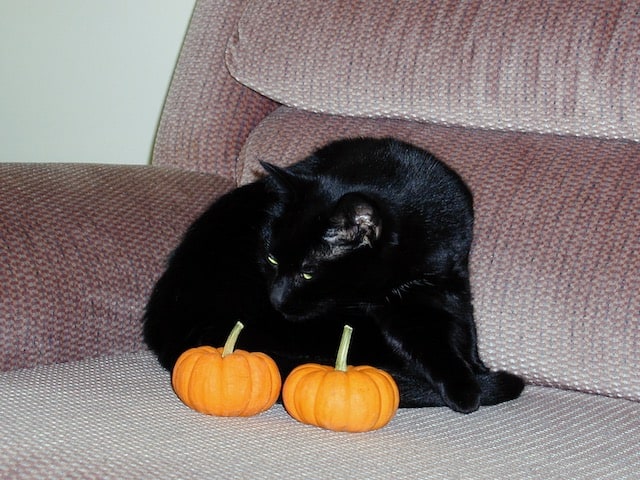 What caught my eye this week:
Overwhelming task lists: I love making lists and, better yet, crossing items off the list! Priority is the key.
Too much political news: I can't ever remember this being more of an issue. If you are looking to stay informed and not be overwhelmed I can recommend The Skimm.
A break from anything political or serious: Dogs in costume A cute French bulldog in 31 days of Halloween costumes. Too cute!
Have a good weekend!