Tender, sweet muffins full of diced apple and cinnamon with a crunchy sweet top. Recently these little guys have become one of Husband's favorite muffin varieties.
Muffins are in our freezer at all times. Husband loves them for a quick snack or sweet treat after dinner. I am always trying new varieties depending on what ingredients are in season and available. Since I have lots of great baking apples right now I have made several batches of these apple muffins. With fall in full swing, pumpkin and these yummy apple muffins are on regular rotation.
Hey, Minnesota, the calendar says autumn. Enough with the snow already!!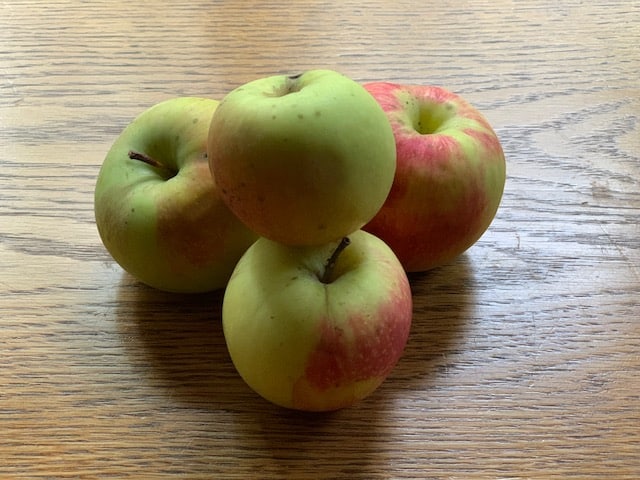 Muffin basics:
Any crisp baking apple will be wonderful in these muffins. Like most muffins they are quite easy to make. Combine dry ingredients then thoroughly mix butter, sugar eggs and vanilla. Slowly incorporate the dry ingredients with the butter/sugar mixture alternating with milk. Take your time and mix slowly; this helps the muffins bake up soft and fluffy. Then gently fold in the finely diced apples; again mixed slowly and only until combined. Over-mixing will result in a more dense muffin and we want soft and fluffy.
Distribute muffin batter equally into the 12 muffin tins. The tins will be nearly full to produce a nice rounded top. Bake until golden and a tester comes out clean; about 30 minutes.
Once the muffins are out of the oven prep the topping. Melt butter and combine sugar with the cinnamon. Brush hot muffins with butter and sprinkle with the cinnamon sugar mixture.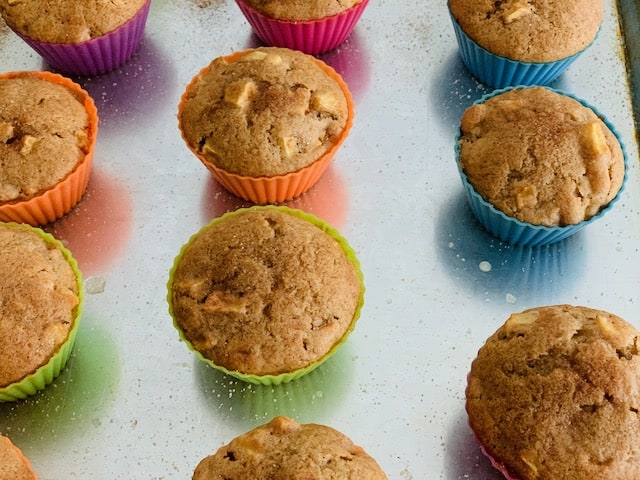 Since I make a lot of muffins we bought these reusable silicon cups; I love them! Simply place the silicon cups on a sheet pan, fill with batter and bake as normal. Pull the muffins off the baking sheet as soon as you pull them out of the oven so the bottoms don't over bake. Once the muffins are cool ( Well, kinda cool, because who doesn't like warm muffins right out the oven! ) they are popped out of cups.
After the muffins are completely cool store in a airtight container. They also freeze very well and can be popped in the microwave (15 seconds, flip, and 15 more seconds) to thaw whoever a muffin craving hits.
Enjoy these delicious muffins!
Apple Cinnamon Sugar Muffins
Ingredients
Muffins
2

cups

all-purpose flour

2

tsp

baking powder

½

tsp

salt

2

tsp

ground cinnamon

2

cups

finely diced apples

2

tsp

all-purpose flour

½

tsp

ground cinnamon

½

cup

butter

room temperature

1

cup

granulated sugar

2

large

eggs

room temperature

2

tsp

vanilla extract

½

cup

milk
Topping
2

Tbsp

butter

melted

½

tsp

granulated sugar

¼

tsp

ground cinnamon
Instructions
Preheat oven to 375º F. Spray muffin tins with cooking spray or place 12 silicon muffins cups on a baking sheet

Combine 2 cups flour, baking powder, salt, and 2 teaspoons cinnamon in a medium bowl. Set aside.

Peel and dice apples. Two cups is about 2 medium apples. Toss diced apples with 2 tsp flour and 12 tsp of cinnamon and set aside.

Cream butter and sugar until thoroughly mixed. Add eggs and mix thoroughly. Mix in vanilla.

Gently fold in half the flour mixture and then half the milk. Repeat with remaining flour and milk. Stir until just combined. Fold in diced apples. Using a large cookie scoop fill muffins tins or silicon cups until nearly full.

Bake until a toothpick or skewer inserted in the middle comes out clean, about 30 minutes.

Prepare topping for muffins: Melt butter. Combine sugar and cinnamon.

Once muffins have baked, remove from the oven and allow to cool slightly in the muffin tin. Then brush each muffin with butter using a pastry brush and sprinkle with cinnamon sugar mixture. Place onto a plate to finish cooling.