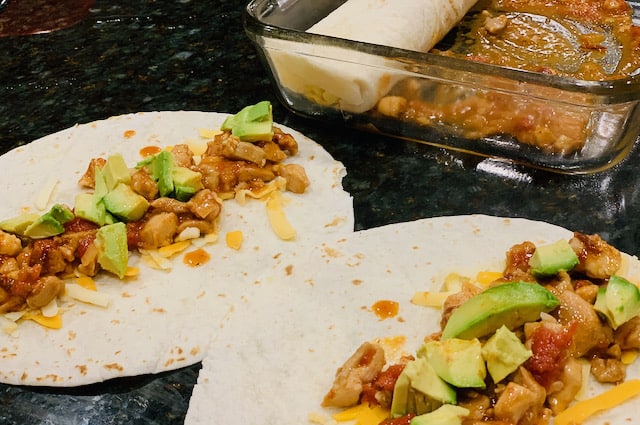 Chicken is combined with tomatoes, onions, Chipotle peppers and spices to create chicken tinga.
We first became acquainted with tinga on vacation. I think we were in Chicago; which is an amazing foodie city. One of us ordered a Mexican-inspired breakfast dish and loved the spicy, tomato flavor.
This recipe is great for make-ahead meals. I can make a batch to prepare enchiladas for dinner and freeze a portion for a later date. An easy taco or Chipotle chicken bowl dinner can happen in a flash on a busy night down the road.
While many recipes call for leftover cooked or rotisserie chicken, I like starting with raw chicken. Typically I don't have leftover chicken and I also like how the flavors meld during the cooking process.
Ingredients:
Chicken: Either boneless, skinless chicken breasts or thighs will work. I prefer thighs as they don't dry out as easily.
Onions and garlic: They are sautéed along with the chicken for great flavor.
Chipotle peppers in adobo: They add a wonderful smoky, spicy flavor. They are quite spicy so add less if heat sensitive.
Cumin & Hot chili powder: The traditional Mexican spices.
Canned tomatoes: Provide the saucy base and more great flavor.
Instructions:
Dice your chicken breasts or thighs finely. Then sauté the chicken in olive oil over medium heat for about five minutes until the chicken is starting to get browned. Don't be concerned that the chicken isn't cooked through as it has plenty of time to finish cooking.
Add your onions, garlic and Chipotle peppers and sauté for another two minutes or so.
The spices and tomatoes are then added and brought to a heavy simmer. Continue to simmer for 20 minutes to allow the liquid to reduce.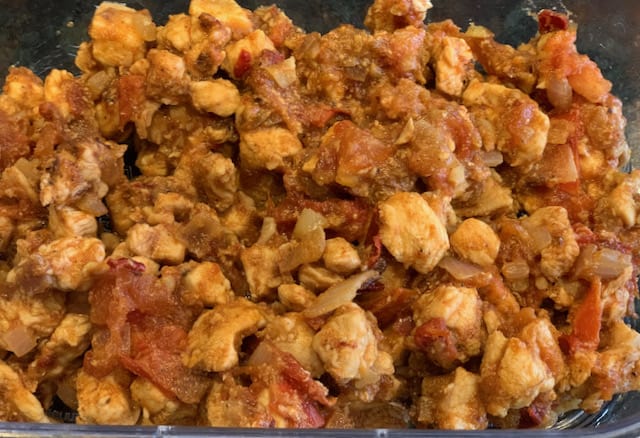 Once the liquid is reduced remove the pan from the heat. The chicken tinga can then be used immediately to fill enchiladas, chicken bowls, or tacos. You can also cool and freeze for an easy dinner at a later date.
Enchiladas are one of my favorite uses for chicken tinga; add a side of Mexican vegetables and dinner is done!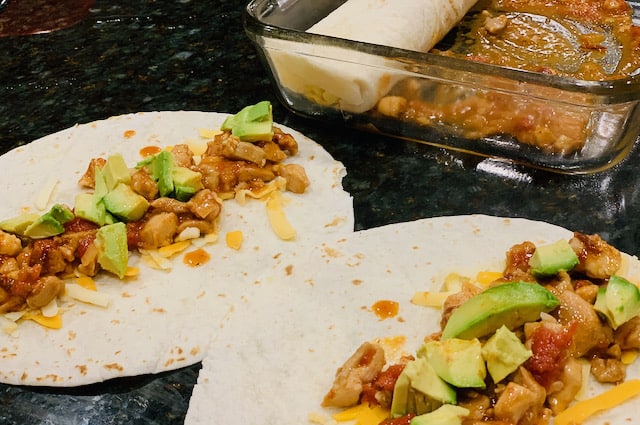 Chicken Tinga
Ingredients
1

Tbsp

olive oil

1

large

boneless skinless chicken breast or 2-3 chicken thighs

finely diced

½

cup

onion

chopped

1

clove

garlic

minced

1-2

chipotle

peppers in adobo sauce

chopped

½

tsp

ground cumin

1

tsp

hot chili powder

½

tsp

Kosher salt

½

tsp

pepper

¾

cup

canned diced tomatoes
Instructions
Heat olive oil in a large skillet. Add diced chicken and sauté until starting to brown.

Add onion, garlic and chipotle peppers and stir to combine. Continue to sauté the mixture for about 2 minutes.

Add all spices and the tomatoes. Bring mixture to a heavy simmer. Continue to simmer for about 20 minutes until liquid is partially cooked down.