Happy Sunday! Christmas week is here; ready or not. 🙂
This time last year we enjoyed walking through the annual holiday lights display put on at a local park. Cancelled this year due to COVID-19, but I was happy to read plans are already in place to come back even bigger next year. It is really gorgeous and draws huge crowds!
Last weekend I made sugar cookie cut-outs; Husband's favorite holiday cookie. My first and only recipe for holiday sugar cookies is this classic from Betty Crocker. The result is absolute perfection. The cookies are just crisp enough for a snap yet soft, tender and melt in your mouth. So very worth the mixing, cooling and rolling.
Once cooled, I frost the sugar cookies with a simple vanilla icing. They are incredible.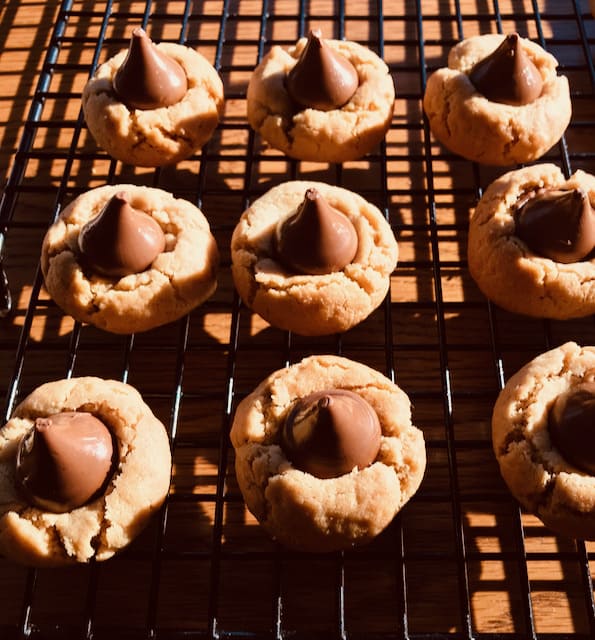 Peanut butter blossoms are my other favorite. The combination of peanut butter and chocolate….Yum!
Of course these chocolate pecan pie bars are also hard to beat.
What caught my eye this week:
After losing his beloved cat, Ricky Gervais fostered a kitty who turned into his forever cat. I have enjoyed following the journey on his Instagram.
A comic book honoring nurses at the front lines of the pandemic. So cool.
Favorite Christmas movies: I enjoy any version of A Christmas Carol.
Emotional eating is always a challenge but especially during holiday season. But when it is worth it; we all deserve a splurge!
Time management for when we have too much to do and not enough time.
The COVID-19 vaccine is here. I can't wait to roll up my sleeve. Meanwhile we need just need to hang on.
Bailey in the breakfast nook; no doubt inspecting my cookie baking process. 😉
Have a lovely Sunday.