Happy Sunday! We had an awesome Thanksgiving day. 🙂
Dinner was traditional and very delicious. Roast turkey was the star. After some debate a whole, nearly 13 pound, turkey rather than a turkey breast was our main entrée. I absolutely love having the leftovers and nothing will go to waste.
We also had potatoes; a divine, indulgent cheesy potato creation I have been making for many years. Recipe coming soon!
Green bean casserole with fresh green beans, turkey sausage dressing, Hawaiian buns and cranberry apple sauce completed our dinner menu. Husband took care of the dressing and buns. Dressing or stuffing-which is it? I was reading earlier that if stuffed in the turkey the term is stuffing and when cooked alongside the turkey it is dressing. I use the terms interchangeably.
It was all scrumptious.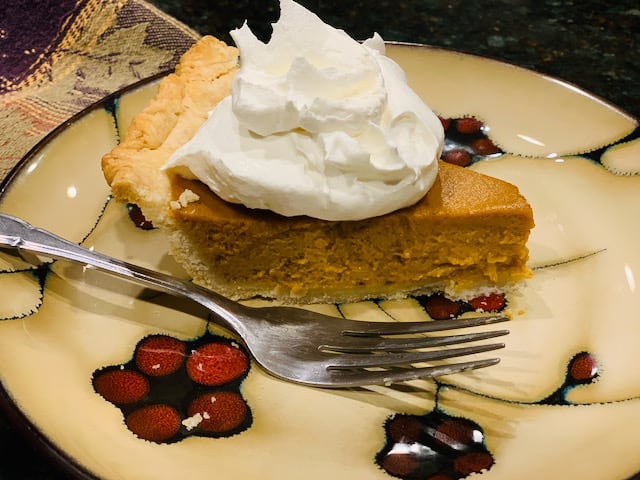 Of course, I made a pumpkin pie! So yummy. Pie, coffee, football…..my kind of afternoon!
Black Friday
I was fortunate enough to have Friday off. From the comfort of my couch I bought a mix of necessities and fun on Black Friday special. Some new scrubs for work from Uniform Advantage; the best site online to buy all things medical uniform. I also treated myself to a new cookbook and a Viking's sweatshirt from the team's official site.
What caught my eye this week:
Why you don't need to detox: Great to keep in mind this holiday season.
The silent breakfast: Mindful meals to enjoy your food.
Friends reunion: Yay!
Go Scotland! This is awesome.
Fly, little owl: This is sweet. The Rockefeller owl is rehabbed and on his way back to nature.
Wildlife bridge saving lives: A bridge in Utah over a busy highway to reduce accidents and save animal lives. It's working!
Real Christmas trees: I am really feeling like a real tree this year.
Have a warm, cozy rest of the holiday weekend!