These were basically another excuse to put nachos on the dinner menu. They are made with chicken instead of the traditional beef and have a tomato base. We like spicy so these contain both jalapeno pepper and Chipotle peppers in adobo. The original recipe didn't call for jalapenos but I happened to have several of them at the moment and I knew it would be good addition.
On the subject of Chipotle peppers in adobo; what to do with the rest of the can after making a recipe? Freeze in Ziploc bag! Take the peppers out of the can, spread in the single layer in the bag and throw in the freezer. You can break off what you need for future recipes and your peppers will last a long time. I tried it and it works great.
I also look for any excuse to buy avocados or guacamole. The first time we had it with chopped avocado over the chicken and this time we had spicy guacamole beside the sour cream; both were delicious.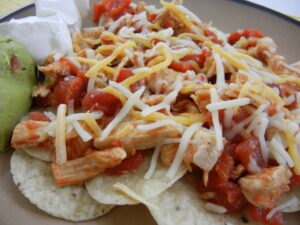 Adapted from Martha Stewart
Ingredients:
1 Tbsp Olive Oil
¼ cup Onion, finely chopped
2 Cloves Garlic, chopped
1 jalapeno pepper, diced
1 Can (14 Ounces) Whole Peeled Tomatoes, in puree
1-2 Canned Chipotle Chilies In Adobo, plus the sauce clinging to the chili pepper
1 Cooked Chicken Breast
1 tsp Cilantro
2 cups Tortilla Chips
1 Avocado, chopped
¼ cup Sour Cream
½ cup Mexican Cheese
Directions:
1. Pour oil into heavy skillet, heat and add onion and peppers. Cook and stir over medium heat until tender. Add garlic and cook until fragrant.
2. Add tomatoes with their puree (breaking tomatoes up, or chop tomatoes ahead of time) and chipotle with adobo sauce. ( I used a can of diced tomatoes instead. ) Bring to a boil; season with salt and pepper. Reduce heat and simmer rapidly until lightly thickened and some of the liquid is evaporated, 6 to 8 minutes.
3. Add chicken and cook, stirring, until hot, about 1 minute. Remove from heat; stir in cilantro.
4. Divide chips among four shallow bowls; top with chicken mixture and Mexican cheese. Microwave for 30 seconds on high if melted cheese is desired. Garnish with avocado or guacamole and sour cream. Serve warm