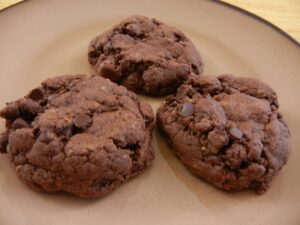 If you are looking for a thick, rich, indulgent cookie; look no further. This is it.
The basis of the cookie is cake mix, something I have been meaning to try for a while. I had heard it resulted in a thick, chewy cookie and that is certainly true in this case. The batter is so thick, in fact, it must be flattened a bit on the tray so it takes the shape of a cookie.
It is also such an easy way to make cookies. Other than unwrapping and crushing the peanut butter cups this took me hardly any time to put together.
These aren't really classic holiday cookies, but I have a bunch frozen to bring out later this season. Personally I think a good chocolate peanut butter cookie is good any time of the year. 🙂
Adapted from Taste of Home
Ingredients:
1 Box Devils Food Cake Mix
1 stick (8 tablespoons) Butter, melted
1 large Egg
2 cups Mini Chocolate Chips
25 Mini peanut butter Cups, crushed
Directions:
1. Preheat oven to 350 degrees F.
2. Pour cake mix into a large mixing bow. Add melted butter (I melted the butter in the microwave. Having the butter completely melted makes mixing the batter easier.) egg, chocolate chips and crushed peanut butter cups. I put the peanut butter cups in a Zip lock bag and ran my rolling pin over them to crush them. It's a very thick, heavy batter and I ended up using my hands.
3. Using a tablespoon or a medium cookie scoop drop dough onto a baking sheet about 1 inch apart. The dough does not spread much so they can be closer together then most cookies. With a spoon or your fingers press down slightly on the top of each dough ball.
4. Bake for 11-13 minutes until cooked through. Let cool for 10 minutes on baking sheet before transferring to cooling rack. I am normally not good about doing these but these fall apart unless they are allowed to cool
Makes 3 dozen cookies