One of my baking goals for a long time has been to find the perfect chocolate chip cookie recipe. It would be thick, soft, chewy and, of course, taste amazing. I have made lots of good cookies; this recipe I am sharing is delicious. For years I went with the classic Nestle Toll House recipe; which is excellent.
But I have never found what I consider to be my idea of the perfect chocolate chip cookie.
That said, these aren't too shabby. They bake up soft, taste great and are nearly irresistible in dough form. Me and cookie dough…it's a sickness. Actually I have never gotten sick; not that it would cure me.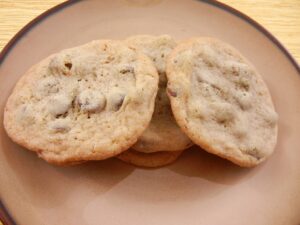 Adapted from Food.com
Ingredients:
1 1/4 cups All-Purpose Flour
3/4 tsp Baking Soda
1/4 tsp Salt
1/4 cup (1/2 stick) Real Butter, at room temperature
1/4 cup Shortening
3/4 cup Firmly Packed Brown Sugar
1 tsp Vanilla
1 large Eggs
1 (6 ounce) Package Semi-Sweet Chocolate Chips
1/2 cup Chopped Nuts (Optional) I opted not-my perfect cookie does not have nuts.


Directions:
In a large bowl, beat butter and shortening until creamy.
Add sugar and vanilla and beat with a mixer on medium speed until well blended.
Beat in eggs, one at a time, mixing well.
Combine flour, baking soda and salt, add slowly allowing ingredients to combine, then beat to blend well.
Stir in chocolate chips.
Drop batter in 2-tablespoon portions about 2 inches apart on baking sheets.
Bake in a 375°F preheated oven until edges of cookies are brown but an area about 1 inch wide in the center is still pale, about 10 minutes.
Let cookies cool on pan about 5 minutes, then transfer to racks with a spatula.
Yields about 18 cookies and easily doubled if you wish to make more.