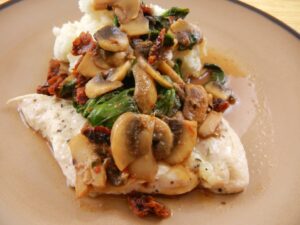 Yup, another chicken recipe. Boneless, skinless chicken breasts are so convenient for the two of us and good portion size.
The recipe also called for mushrooms, spinach and wine, so it definitely sounded up my alley.
The biggest challenge for me was trying to pound a half a chicken breast flat enough to cook through in two minutes a side. Really?? I think the key, for me anyway, would be to buy those flattened out breasts they sell in the grocery store. Maybe some people can pound meat flat as a pancake, but I am evidently chicken-breast-pounding-challenged. So I improvised. After frying on both sides for a few minutes I stuck them in the oven to bake the rest of the way. The chicken gets softer on the outside than it would obviously be if it were fried until it is done, but this way-it gets done.
The rest is a snap, put the rest of the ingredients in the frying pan; then stir and cook. I served it was smashed potatoes and I am thinking pasta would be great too. It's a very tasty recipe with the wine and sun-dried tomatoes, and of course the spinach and mushrooms which are some of my favorites.
Adapted from Food.com
Ingredients:
2 Boneless Skinless Chicken Breast Halves
All-Purpose Flour
Salt And Pepper
1 Tbs Dried Italian Seasoning
1 Tbsp Olive Oil
1 Tbsp Butter
1 1/2 cups Sliced white Mushrooms
1/3 cup Sun-Dried Tomatoes chopped
3/4 cup Packed Fresh Spinach
1/2 cup sweet white Wine
Directions:
1. Place chicken breasts between two pieces of wax paper, and pound to ¼ inch thick with a meat mallet.
2. Dust chicken with flour, salt, pepper and Italian seasoning.
3. In a skillet, fry chicken in olive oil over medium heat.
4. Cook about 2 minutes on each side or until cooked through, but not over done.
5. Set aside, and keep warm. (As I mentioned above, no way was my chicken flat enough to be done in that amount of time; I baked in the oven at 325 degrees for about 25 minutes. Be careful not to overcook.)
6. In the same pan, melt the butter over medium heat; add mushrooms, sun-dried tomatoes and cook for approximately 4 minutes, stirring occasionally.
7. Add wine and cook for 6 more minutes. Stirring and scraping the bottom of pan to release all the flavor.
8. Mix in spinach, and cook for about 2 minutes.
9. Serve over chicken.