It is getting to be fall, it's officially football season, so we once again have homemade pizza at our house about every weekend. I am happy with my recipe for homemade crust and the baking method; but up to yesterday I was still using store bought sauce. Nothing against most of the sauce I have tried, but I knew it couldn't be that hard to make my own.
This recipe is very easy and quick and results in good flavor and color. The resulting sauce is very thick; which I liked. You could add more sauce if you prefer a thinner tomato sauce. The thickness also varies, of course, with how long the sauce simmers.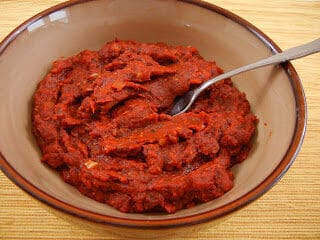 I decided to leave it a bit chunky and not puree in the blender. I am now curious to try the recipe with fresh tomatoes in place of the canned sauce, but regardless I was really pleased with the spice in flavor as is.
Adapted from Noble Pig
Ingredients:
1 Tablespoon Olive Oil
1 Tablespoon Butter
½ cup Onion, finely chopped
1 Garlic Clove, minced
1 (8 ounce) Can Tomato Sauce
1 (6 ounce) Can Tomato Paste
2 Tablespoons Grated Parmesan Cheese
1 tsp Dried Basil Leaves
1 tsp Dried Oregano Leaves
1 tsp Fennel Seeds
1 Bay Leaf
½ tsp Salt
½ tsp Sugar
¼ tsp Black Pepper
Directions:
Melt butter with the oil and add the onion and garlic; saute until soft, about 5 minutes.
Stir in tomato sauce and tomato paste and continue to stir until smooth. Add remaining ingredients and bring to a slow simmer. Simmer uncovered for 30 minutes.
Remove bay leaf. If a smooth texture is desired puree in a blender. Spread sauce on prepared pizza dough and add your favorite toppings.